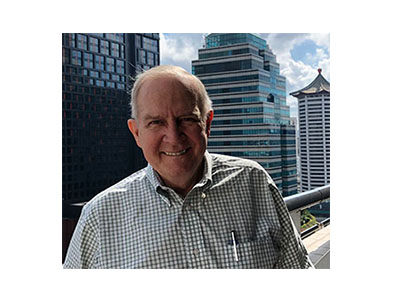 Email Jim at jim.thompson@ipulpmedia.com
I was blessed with a strong streak of creativity. Don't ask me how I got it. My dad definitely had it--among creative constructs in his life, he developed the first fiberglass welding helmet in the 1950's and was a model maker at Kenner Toys in the 1970's with his name on several patents for dolls and Star Wars toys (there is an uncredited group picture including him in the Netflix series, "The Toys that Made Us" Episode 1). Along the way, he built many unique items in fields as far ranging as muzzle loading rifles and farming. So, maybe I inherited it.
However, I think anyone can train their brain to be creative. It is a matter of recognizing and knocking down the subconscious mental barriers in your thinking. I believe most are not creative because they won't let themselves explore the possibilities. I know this happens to me even though I am aware of this barrier.
The easiest way to be creative is to mash together two unrelated conditions. If you go back and look at old Johnny Carson or Jay Leno monologues (comedians are a great source of creativity), they had a formula they used night after night. They would take the current news each day and mash together unrelated stories. At least half their monologues were made by doing this. Jay Leno took it a step further with his "headlines" feature where he took ordinary headlines from newspapers and helped the viewer see them in a different way.
The "mashup" can be used by anyone in any scenario.
We live in a two-story house. The master bedroom is on the second floor. The laundry is on the first floor. Both Laura and I travel a lot and so there are suitcases often going from our closet, on the second floor, to the garage on the first floor. Fifteen years ago, looking ahead and recognizing we were getting older, I decided we needed to find a way to improve the coming scenario of feeble old people dragging suitcases up and down stairs.
We were remodeling our closet which is above the laundry room. The laundry room is also the entrance to the garage. We obviously needed an electric dumb waiter to move laundry and suitcases between the first and second floors. Of course, I will build it--the commercial ones I investigated had a huge fee built in for liability insurance (at least that is what I surmised--the costs far exceeded the cost of materials, installation and profit). I studied elevators everywhere I went. An elevator has a cab, counterweight box, track and cables. My dumb waiter was going to be much simpler than an elevator because it had only two stops--no intermediate floors. It also needed some safety devices to avoid becoming an electric guillotine.
The cab, track and counterweight boxes were easy, but what to use for motive power and safety devices? Looking around, the answer was obvious--a garage door opener standing on end. I didn't need much power, if I designed the counterweight properly, the machine is not lifting much. A modern garage door opener has safety eyes, just need to mount them on the cab, one in the top and one in the floor, both centered near the front side of the cab. The track and wheels come from the same source--garage door parts. This machine has been working faithfully since 2009 with one rebuild to correct tiny assumptions that did not work out and to build a finished cab with interior lighting and a nice hardwood floor.
The breakthrough in this project was recognizing the elements found in a garage door opener and determining how they could provide low-cost solutions to otherwise thorny problems.
I'll provide another example next week as I try to help you break through your barriers to creativity.
For safety this week, you may not find the project I have just describe as being very safe. Laura and I discussed this, particularly with grandchildren and dogs around, especially grandchildren who might be predisposed to take a dog for a ride in the dumb waiter. These issues were overcome by (1) not revealing the dumbwaiter's existence to the grandchildren until they were old enough to understand danger and (2) to using keypad switches to operate the garage door opener.
Be safe and we will talk next week.
By the way, if you have any breakthroughs, drop me a line. Love to hear about them.
________
Other interesting stories: