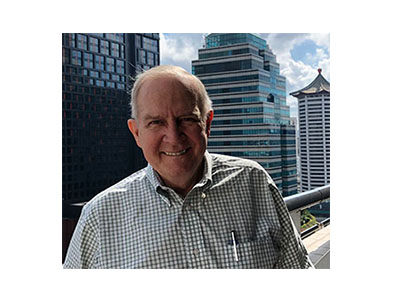 Email Jim at jim.thompson@ipulpmedia.com
You may have thought the sheeter project mentioned a couple of weeks ago was a rule breaker and it was. By the way, our nickname for that project was the "Underground Railroad." At the time, we thought it was cute.
Much earlier in my career, my co-op assignment while I was in college, was with a company that made custom industrial washing machines and finishing systems. Such systems are used to clean and finish industrial parts.
In those days, sales folks were better known for their arm bending prowess than their technical abilities. We received an order for a custom washing machine that would clean hand carried plastic tote bins in a factory that made telephones. These bins were of various shapes and sizes. Our machine would be required to accept them in any order of size. Because they were lightweight, besides a screen conveyor on the bottom for the bins to rest on as they went through the machine, there would also need to be a similar screen hold down on top to keep the sprays from knocking them off. Same was true in the drying end of the machine when the pieces were hit with hot air from all sides. If you are having trouble visualizing this, think of a car wash where the cars weigh about as much as a leaf, in other words, the weight of the part is not enough to hold it in place.
My manager and I came up with a design that was something like a racetrack with discrete, not continuous, screen belts to hold the parts in place. These were basketlike and a couple of the products to be washed could be put in each one. If there was no one at the discharge end to remove them, they would just go around again.
I designed it and the shop built it. The only problem was the profit margin was below our target. We got yelled at, but to this day, 50 plus years late, I'll still contend the sales person and estimating department were at fault. We couldn't build what they had sold. However, we pleased this very large customer, leading to other orders with appropriate margins.
Fast forward only about three years and I am in the engineering department of a large, nationally known paper company. Our task was to come up with a replacement for manual surge tables in the converting department. A case of paper towels had a mixture of colors in it, planned to be nearly exactly the same color mix that a small grocery store would sell on a long-term basis. Hence the small store did not have to buy cases of individual colors and run up their inventory costs. However, the paper machines, to be efficient, ran blue for a couple of days, green for a couple of days, and at that time ran yellow for many days. As the finished packages came through converting, they were manually taken off the line and put on surge tables, all of the same color on each surge table. At the other end of the surge tables, final case packing occurred. Here an empty case started down the line and workers manually pulled off the surge tables the correct number of each color.
It was time to automate this process. The engineering department was, for lack of better terminology, formally broken into innovators and executors. In other words, one group came up with the ideas and the other group turned the ideas into real machines. I was in the execution group (a square peg in a round hole if there ever was one). Mill folks came to town and the Innovators (the Sneetches with the stars on their bellies--see Dr. Seuss) and the Executors had a big meeting. The Sneetches (oops, I mean the Innovators) got up to the board and sketched out their grand plan. It was awful, it looked like a Rube Goldberg invention. I got up, uninvited, and sketch out my concept, which borrowed a couple of things from the racetrack washing machine design, when it came to product handling. The mill loved it. The Sneetches (oops, I mean the Innovators) hated it because it came from the lowly executors.
I left the company in a couple of years.
So, what have we learned from this series of columns?
A mechanical way to do anything in almost any field is to deliberately smash together two unrelated ideas that may in a distant way relate to your problem but not at all to each other.

Don't limit your creativity, sometimes it is figuratively found in the basement (Underground Railroad).

Ask yourself this question--is the task at hand execution or innovation (Lego example)?

Make sure artificial barriers, like departmental organization, don't get in the way of elegant innovation.
Be safe and we will talk next week.
________
Other interesting stories: