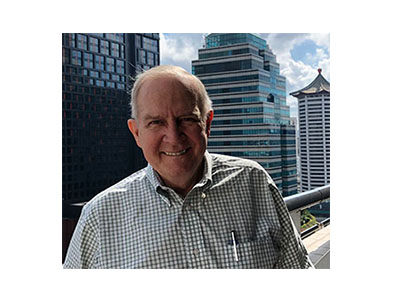 Email Jim at jthompson@ipulpmedia.com
Finishing up...
There are two extraordinary transient conditions at the present time. One is well under way, and the other is just around the corner. We may reach a steady state of predictable growth once these pass. However, this is the paper industry where there always seem to be surprises.
The first involves the predicament in which the Chinese find themselves. Since the implementation of the National Sword program mentioned above, the Chinese paper industry has been scrambling for fiber sources. Nine Dragons, the large Chinese paper company, acted in 2019 to correct this problem for their mills. Coming to the United States, they purchased four existing assets with the intent of entering the US containerboard market, but more importantly, produce an entirely new grade, one I call "Brown Recycled Pulp" (BRP). This grade has never been made before, but ND Paper (as they call their US arm) has the intention of recycling wastepaper to export to China and make recycled containerboard there. This is a way to comply with the National Sword regulations by, in effect, leaving the outthrows (that portion of a recycled fiber stream that is truly landfill material) in the source country by processing the paper here into BRP. Others are following suit. Another Chinese company has purchased an idle papermill in Wickliffe, Kentucky, and under the name Phoenix Paper seems intent on doing the same thing. In late June of this year it was announced an unnamed Chinese company has apparently decided to invest in a new project to be called Empire Recycled Fiber and located in Fairless Hills, Pennsylvania with the purpose of producing 440,000 tons per year of BRP for export to, presumably, China.
The concomitant result of the Chinese moves will result in a tightening of supply of recycled wastepaper. This could, however, bring some collectors back into the market which were struck down by the National Sword initiative. This may put profitability pressure on the existing tolling facilities, but this is not certain, for on the market side, containerboard demand has been a bright economic spot in the Covid 19 pandemic as consumers have moved to more and more touchless deliveries to their homes.
The second issue facing the industry soon does not have an obvious solution. It is an issue with constraints, most of which I have already enumerated, but allow me to add two more before we discuss the ramifications.
The first is this--laboratory testing tells us that fibers can be recycled up to approximately eight times before they are "worn out." This means they have gotten so short they are of little use. As a stand alone theoretical, this means we must introduce new fiber to the system at some rate which precludes this from happening. We are currently recycling about 80% of old corrugated cartons, which appears to be a realistic asymptote. Coupled with the recycling theoretical and market growth, this means we always need a virgin fiber component introduced into the overall all container manufacturing organism.
This brings us to the second issue which is the age of the virgin fiber mills. They are all old, and, unlike the recycled mills, are in rural areas (nearly all the new recycled mills are located very close to major urban markets). So, compared to the recycled upstarts, these old mills start with a transportation disadvantage. Additionally, they were built during the days of Rule 41, as mentioned previously. This means their machines, indeed their whole systems, were designed to manufacture heavier weight containerboard, not the lightweight grades popular now. In effect, as a system, they are out of balance--they can produce more fiber than their machines can consume in today's market, nominally 21% more.
On top of this, these old machines do not "trim out" modern corrugators and box making machinery. This means the width of the containerboard manufactured by these machines is not an integer multiple of new corrugators. In other words, if the containerboard machines were designed to make (3) 85-inch rolls and today's corrugators need 110-inch rolls, there is a mismatch. Owners are faced with replacing machines (while all the rest of the pulping system is forty or fifty years old) or siting a new virgin mill (with permitting hurdles not scaled since 1989).
So far, one company in the United States has accepted this challenge--WestRock is constructing a new machine with all the modern attributes at their more than half century old mill in Florence, South Carolina. No doubt others are watching this project, and, if successful, will follow with projects of their own.
So, this is really a story of quality improvement. If we could not make 100% recycled containerboard up to the performance requirements of today, it could not be told. Thirty years ago, we could not. It has taken many people at manufacturing companies, universities and suppliers to make this happen.
Be safe and we will talk next week.
________
Other interesting stories: