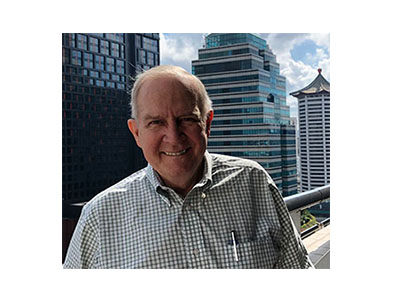 Email Jim at jim.thompson@ipulpmedia.com
By Jim Thompson interpreting for Fos the Rat
You Big Things may think we rats are in the dark about your activities. Of course, if you have been reading this column for any length of time, you know that is not true. I (Fos) have been reporting on your misdeeds and malfeasance since August of 2015. Yes, this makes the seventh year Mr. Jim has yielded his column to me for the month of August.
We know a lot of you were getting sick this past year from something called Covet. Oops, I think that is wrong, perhaps it was something called Covid. Covet is the reason I have to write this column in the first place, because you covet your colleague's things, job, salary, money, kids, wife (or husband)--you name it. You just cannot be satisfied with what you have or earning what you want--always looking for a shortcut.
Well, anyway, we thought we would get with the program, not meet, and instead go to the zoo like you have been doing. Boy, did that create a lot of problems. We were nearly trampled by the elephants and I do not want to tell you what happened in the snake house.
The Great Mother said this cannot be correct and asked Spo, who is somewhat literate in Big Thing language, to see if she could figure out what was wrong. Spo reported back to the Cadre that the word wasn't ZOO but it was ZOOM. Zil commented that he had been in some Big Things' dwellings, and he swore that with small Big Things, big Big Things and everything else that was going on, it seemed more like a ZOO to him.
As we investigated further, we discovered that sometimes ZOOM involves wires and the Great Mother said that will not work. Half the rats only know one thing to do with wires--eat the insulation off them. As for when Zoom does not involve wires, we could not figure that out. So, the Great Mother and the Cadre met again and said, we will just have to risk it and meet together anyway.
It took about ninety lights to get the word out to all the mills around the country. By the way, we appreciate all the recycling you Big Things are doing, for that means your BTI's (Big Things Inventions) are hauling brown stuff all over the place. That, in turn, means free communications and transportation for us.
So, as I said, it took about ninety lights for the Cadre to get the word out. As you may recall, last year we tried to meet in a big city, but the Cadre called it off and relocated the convention--they deemed big cities too dangerous. But this year they came back and said they wanted to try again. This time they want to go to the big city with the most corruption. This would be the one on the smaller body of water that has a lot of stone things. It especially has a very large pointy stone thing in a grassy area with other, smaller stone things all around. The Great Mother said this is the center of the Big Things corruption, be it paper mill, pulp mill or just in general.
So, we finally all got to the city and the Cadre thought it would be nice if we met in the big stone building where the Big Things plan their corruption (the one with the big half a ball on top). It has been there thousands of lights and seen battles where the Big Things have fought other Big Things.
So, we settled in for a full agenda. I heard there are some juicy cases this year.
________
Other interesting stories: