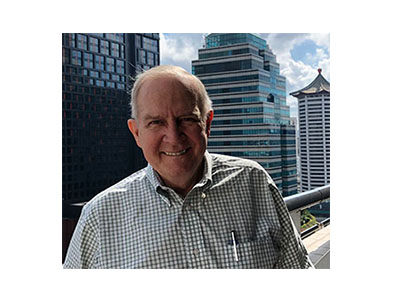 Email Jim at jim.thompson@ipulpmedia.com
Let me set the scene for a project leadership conference I attended many, many decades ago. There were about 30 participants. We were seated in one room, at round tables in groups of six. On another table, there was a single object constructed of about 15 Lego blocks of distinct color and size. On each groups' table was a collection of unassembled Lego blocks.
The facilitator told us the Legos in front of us were exactly the same ones as in the model on the other table. Our task was a timed one...we were to produce a model exactly like the one he had constructed.
Here were the rules. When the facilitator said go, we could go look at the model we were to copy. However, only one person from our table could go at a time. They were not allowed to make notes. They could observe the model, pick it up, look at it from any angle. Then they were to take their observations back to their own table and report what they saw.
Each team was allowed to send as many observers as they wanted, the only rule being that only one observer from each table could be out of their chair and observing the model at any given time.
We were all people who did not know each other. It was up to us to select a leader and decide how to complete the task. Being young and brash, I took the reins and told our team, that, with their permission we would only ever send one person to the model, me. I would go back and forth until we had all the information to build the duplicate. I promised them we would win.
As I remember, we built an exact duplicate in about 90 seconds. I don't think any other group did the exercise in less than five minutes, and most of them had errors.
What is the lesson here? Project management is about leadership, not democracy. The objective is to complete the project at the least expenditure of time and money. Treat others with respect, yes, but have clearly defined roles for each person and hold them accountable for their piece, replace them if they cannot successfully accomplish their role.
These days, we often spend too much time with our eyes off the prize. There is a time to gather input from all appropriate parties and assimilate ideas, coming up with the best design. Then there is a time to execute that best design.
In this exercise, the facilitator (and he may have had other colleagues, I have no way of knowing) did the collaborative work before we participants arrived. But when we got there, we were assigned a task with specific objectives. It was not a time to discuss opinions unless those opinions were distinctly and directly applicable to completing the task. Capital project teams often forget this or are confused about where they are in the process.
As I always say, designing in steel is the most expensive way to design anything. Design work first, followed by execution.
I have had the singular experience of having a ringside seat for the last 27 years while one of my clients built five paper mills. The project team has been largely the same one throughout this experience. By the time they did the fifth one, it looked like they were coasting. Never excited, at least in my presence, that fifth one was 18 months from first shovel of dirt until paper on the reel. Again, no one even looked like they were working each month as I made my periodic visits to check on the project. Everyone knew the objective, everyone knew their job and they just executed. It was a beautiful thing to watch.
For safety this week, a calm project is a safe one.
Be safe and we will talk next week.
________
Other interesting stories: