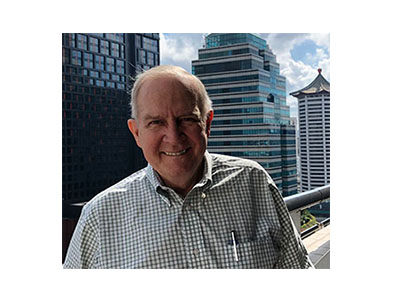 Email Jim at jim.thompson@ipulpmedia.com
You may have heard this story before. I was managing engineering, maintenance and a bunch of other services in this old, 3 machine boxboard mill.
All three machines had pope reels. Two had sheeters. One of the sheeters had a flying knife cutoff, the other sheet was a fixed bed anvil. The flying knife version worked great, the other one caused chips of coating to fly all over the place, causing defects when the customers printed the board.
The flying knife sheeter did not run all the time, for that was our widest machine and it often had roll orders that fully trimmed it out. Roll orders meant the sheeter was idle. Drove me crazy, just like to this day, when I see train tracks without a train on them, I think of idle assets.
I was wandering around, upstairs and downstairs, one day and it occurred to me how we could utilize the good sheeter full time. We didn't need to move the sheeter; we simply needed a slot in the floor and an unwind stand downstairs. Then we could put the rolls from the other machines on carts in the basement (lowered by the house cranes through the floor hatches) and roll them over to the sheeter.
It worked fine. I should be proud of myself, right?
Well, my successor made enough improvements on the paper machines that he was able to remove one and still make the same tonnage. Note: this was a demand limited, mature market.
My idea cost a lot of money because it was out of sequence with a great idea.
The lesson here is to be creative, but make sure you are creative from many points of view. Additionally, don't get hung up on your idea, there may be a better one.
I talked last week about the idea of mashing two dissimilar things together in order to be creative. The lesson for this week is to not stop at doing that once, do it many times.
Some talk about brainstorming sessions, and there are many positives to having brainstorming sessions. However, I think before you convene a large group to do this, brainstorming should be done by many small groups first.
Large groups tend to latch on to the first idea or the first couple of ideas and start refining these ideas from there. I think it is better to do this in small groups first in isolation, then bring them together after a bit of time to refine the best one or two ideas into something with a real chance of success.
Next week we will talk about how hierarchy can get in the way of the best result when brainstorming.
Be safe and we will talk next week.
________
Other interesting stories: