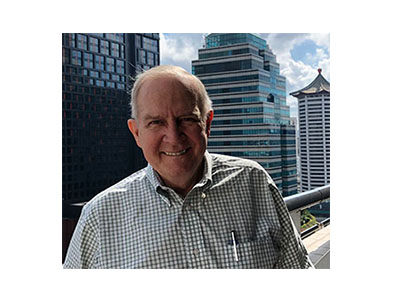 Email Jim at jim.thompson@ipulpmedia.com
As I mentioned last week, we are in a new era of shortages, delays and high costs. Back when many of you engineers and purchasing agents in the mills in the United States were still watching Sesame Street, some of us were going to extraordinary lengths to get the goods our mills needed to stay on schedule and operating. You may need to start thinking this way, too--but be sure to read the safety cautions at the end of this column.
I have told this story before. The scene is mid December 1981. We had a new heat exchanger on order for our pulp mill at our midwestern location. It was ordered from a large pressure vessel shop in central Virginia. It was late, very late, and we needed it by December 25th for the Christmas outage. I was the new kid on the block, so I volunteered to go to Richmond and bring it back.
At the time, Jimmy Carter's synfuels plant was being built in Colorado. Pressure vessel shops all over the country were loaded with business related to this project, nearly the only project going on in the country at the time (see last week's column for capital project conditions then).
I flew into Richmond and went to the fab shop. They were not happy to see me. They showed me to a room full of desks, people and telephones. It was the expeditors' room--where they sat all of us who were trying to push our projects through their shop. There were probably twenty or thirty of us, all vying for shop time.
One of these expeditors gave me the lay of the land. "We have taken over the management of the shop," he told me. You need to find your parts, get those fabricated that aren't fabricated and get your project assembled, pressure tested and out the door. He told me that Stearns-Rogers, who was the engineer on the synfuels plant, was dominating the shop (he did not work for them, but another smaller customer like me).
Stearns-Rogers was building these big, tall cracking towers that took up three or four flat bed rail cars. When their expeditors got a load made, one of them crawled on the open cars with a sleeping bag and road with it. Remember it is December. Their route was through Chicago and the huge railyard at North Platte, Nebraska, the largest yard in North America. The expeditor's job, when they got to a switching yard, was to go pound on the yard dispatcher to keep their load moving.
I assessed the situation. I found my parts--most of them had been made. I met the plant manager and if I ever met a person out of control with their hair on fire, it was him. Along came a vice president of something or other, very friendly, asked me how I was doing. But his real question was this: "When are you going to leave?"
Neither he nor the plant manager liked my answer. I said, "Oh, I think I will just follow the truck out of here with my heat exchanger--all the way to our mill. Don't want it to get lost along the way." They looked dejected.
It was Tuesday. I went into the plant for a couple of hours each shift (usually 8 am, 4 pm and midnight) just to make sure my project was moving through the plant. Towards the end of the week, it looked like we would be done and loaded about noon Sunday. I made sure the Hartford Steam Boiler QC inspector would be available Sunday morning--turns out he was continuously on call.
Sunday morning the heat exchanger was completed and passed the hydro test. A truck arrived. The driver, a very large man, was introduced. He went by "Tiny." The management again cautioned me that if I got behind, Tiny would not wait for me. I told them I wasn't worried.
We finally got on the road about 4 pm on a sunny Sunday afternoon. I learned why they called my truck driver "Tiny." About every three or four hours Tiny would stop for a piece of pie, cup of coffee and a smoke. At all the places we stopped, the waitresses knew Tiny. He had been down this road before. At the weigh stations, I would stop alongside the interstate and wait for Tiny and my heat exchanger (it was getting personal by now) to get through, then I would pull in behind him again.
About 3 or 4 am in the morning, we were on I-24 just inside Kentucky (from Tennessee) when freezing rain started. We stopped and talked about it. I told Tiny I knew the road and I would lead. He was appreciative. Telling him what to expect, I told him we would be getting off the interstate soon onto US 60 for the final 30 miles. All went according to plan. That last 30 miles took two hours. It was 7 am on December 21st when we pulled up to the mill gate.
Four days to spare, but I suspect it took a day to chip all the ice off the heat exchanger to unload it, it was inches thick! Actually I am not sure about that, I went home and went to bed.
For safety this week, keep safety in mind when expediting. The story I just told happened when I was thirty-one years old, a lot brasher, a lot braver than I am today. Don't think I would do this again or ask anyone else to do something similar. How many DOT and OSHA rules did we break? Countless, but I was young and invincible (or so I thought).
Be safe and we will talk next week.
________
Other interesting stories: