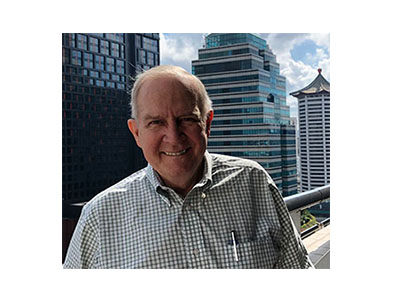 Email Jim at jim.thompson@ipulpmedia.com
Little did I know when I wrote the column last week, "Quality is Attitude" that there would be a sequel, but here it is.
We usually think of quality, and concomitant attitudes about quality, as we think of suppliers serving customers. So, what would you say about customers providing outstanding, unheard-of quality to their suppliers? Would you infer from this that such a company, if it existed, would have quality service so ingrained that their customers could rest assured the quality they receive in service and products is top notch?
I have found such a company and unabashedly want to tell you about them and their president.
The company is Fulton Systems, Inc. (www.fultonsystems.com), the long-term supplier of thermocompressors and steam systems to the pulp and paper industry. They will be 100 years old next year. Their president is Christian Coffman. They are a customer of Paperitalo Publications. Conversely, Paperitalo Publications is their supplier.
The week of the 25th of September, I started on a new urology medicine. By the 30th, I had had a very bad reaction to it. Unfortunately, by this time I had driven to Terre Haute, Indiana, to attend my sister's funeral. Laura was out west on a previously scheduled trip.
Monday morning, October 2nd, I went to the Emergency Room at a local hospital in Terre Haute. They checked me over and admitted me with a serious bladder infection and blockage (all apparently caused by the medicine). In forty-eight hours, Wednesday morning, things were under control, and they wanted to discharge me. However, there was the small matter of my automobile and me solo driving 500 miles home. No one, including me, wanted me to do this.
My plan was to go back to a hotel, find someone I could fly to Indiana to drive me home. It seemed reasonable to think this effort would take a couple of days, first to find someone and then get them to Indiana.
Christian Coffman was about my fifth call, around noon on Wednesday. Keep in mind, Christian has a business to run. Yet without hesitation, Christian said he would do it and he would do it now.
Christian arrived by plane in Indianapolis around 9 pm that very night, Wednesday, October 4th. A cousin of mine who lives in the area picked him up and took him to the same hotel where I was. Christian and I left at 6:30 am the next morning in my car and were in Atlanta by 4 pm, October 5th, less than 30 hours after I had been discharged from the hospital.
Christian became a client of mine through cold-calling about 7 or 8 years ago. Christian and his family have gone on our Paperitalo Papermakers' Mission Trips to Guatemala. Other than that, we haven't been seeing each other socially.
Other people I called for help I know better and are retired. Christian jumped to the challenge, despite other priorities he had. In the twenty years of Paperitalo Publications, I have never done this before, but here and now, I must sincerely endorse Christian and Fulton System for his and their quality attitude. What an example. For your steam system needs, call Fulton Systems--quality through and through.
Be safe and we will talk next week.
________
Other interesting stories: