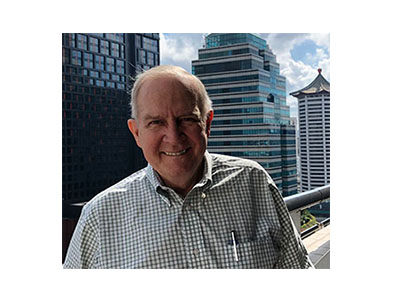 Email Jim at jim.thompson@ipulpmedia.com
I have been using the phrase, "spinning the invoice printer" for nearly two decades. It was an epiphany experience when I came up with this phrase.
I was thinking about enterprise and commerce on a macro basis when it occurred to me. "The Invoice Printer" is the answer to the question, "How does money change hands?"
I had dismissed "at the point of a gun." I had also dismissed "at the reading of a will." And I dismissed the de minimis activities such as a child's allowance.
The only way money changes hands in the normal course of business is through the presentation of a legitimate invoice. At the restaurant, this is the cash register receipt. At church, it is the offering plate. In our businesses it is an electronic or paper document labeled "invoice."
And since businesses, particularly corporations, are just a pile of legal documents, shouldn't one start at the invoice when thinking about them? In other words, if given a choice, wouldn't a corporation just buy a robust printer and print invoices?
Unfortunately, most companies and others will not accept invoices without products or services attached. Hence, businesses must do things, quality things that potential invoice payers will value. We must give an invoice payer an excuse to pay an invoice, otherwise, they won't.
So, my way of thinking of business is this. Out front we have the invoice printer, the most important device our business owns. Backing up the invoice printer are the buildings, people, process equipment, intellectual property, and anything else we can think of that helps us spin our invoice printer as fast as possible.
And you can manage from this. The invoice printer can test and verify all your business decisions. Why do you need the building you occupy? Could you spin the invoice printer just as fast without it? Why do you need all the process equipment you have? Is it all necessary to spin your invoice printer? Why is Jan needed in the laboratory, or going even further, why do you need the laboratory?
Some leading-edge facilities may be needed--your invoice payers are comparing you to your competition, of course, and if you work in a barn, they may not be willing to pay you as much. But these matters should be carefully evaluated and not decided by whimsy. If your invoice payers would consider carefully, they are paying for everything, so even that fancy office building exist because you have thought they will pay more if you are in it rather than a non-descript, utilitarian building down the street.
There are some business decisions that do not make sense using the spinning the invoice printer criteria. For instance, Delta Airlines just built a new $5 billion (that's billion with a B) terminal at LaGuardia Airport in New York. Why? I have used it and I enjoy it, but whether it exists or not is not going to affect my decision to use Delta or LaGuardia. In fact, the first time I used it, I had no idea it even existed. I was expecting to go into the old terminal and was pleasantly surprised by the new one.
All personnel should be tested against their contribution towards making your invoice printer spin. Nearly all personnel should have a direct link to the invoice printer, but some will not. These side stream employees are the ones that keep you compliant with regulations and so forth. If they did not keep you compliant, a government entity will come along and unplug your invoice printer. Not a good outcome.
Be safe and we will talk next week.
________
Other interesting stories: