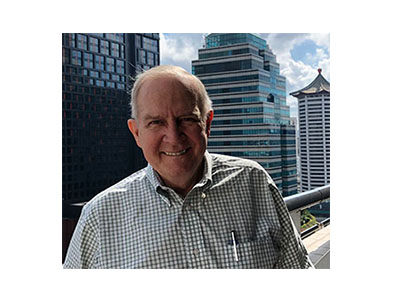 Email Jim at jthompson@ipulpmedia.com
In June of 2015, we inaugurated a little newsletter we called "Aerial Arguments." It was the dawn of the cheap small battery powered drone era. We stopped this newsletter after these drones became mainstream (we often do this, focus on a developing technology to do our little part to launch it into the mainstream).
One of the visions I had at the time was drones that might be permanently mounted in a pulp or paper mill (or other large mill like facility, such as a steel mill) and which would be programmed to fly a predetermined route to check on critical processes and so forth that were not otherwise monitored by local sensors. For instance, a drone might fly over a woodyard, looking for general abnormalities in operations, or over a tank farm for a similar reason. Inside a paper mill, a drone could regularly look at machinery at high elevations, thus eliminating dangerous trips on stairs, ladders and so forth for regular visual inspection. As I saw it, these drones would have a home charging station as their permanent place of repose, taking flight by automatic schedule or manual intervention, following a pre-determined path without the necessity for operator flight control.
Such drones are just around the corner, at least for the consumer. Ring, an Amazon company, has just announced a new security drone that will be available in early 2021 for USD 250. It is for use inside homes and will behave in the manner I described above. It has already been reviewed in a number of places and the IEEE Spectrum is not in favor, for security reasons, which may be a legitimate reason in the home.
What is negative for the home, however, is positive for business. If I were in charge of a pulp and paper mill today, I would buy several of these, even if they are home level devices, just to try them out and see how they might enhance my operations.
No doubt these devices will evolve into hardened, industrial strength units, by Ring or by others. Such units will withstand temperatures and atmospheres not found in the home. They will become mobile instrument platforms, equipped not only with vision, but also measuring temperatures, humidity, sense particular gases, and perform other specialized tasks. Climbing thirty feet to the top of the forming section of the paper machine, where it is hot, noisy and walkways drenched with water and chemicals will not be necessary on the frequency required today.
When I first envisioned this, I also suggested robust systems could fly inside dryer hoods, measuring temperature, humidity and air flow conditions.
All while the machine is running. All data transmitted to the control room or to a central monitoring station not even located in the mill (think Industry 4.0 to the max).
A bit of technology five years in the making. It is about time.